uSTART v5
In stock
$1,299.99
In stock
uSTART v5
uSTART is a Smart Power ultracapacitor based product for vehicles that improves starting reliability, improves vehicle voltage health, improves battery life, and improves sustainability. With a 15-year design life, you will never change your uSTART again.
Reducing lead acid battery count in most cases, and reducing maintenance costs associated with low voltage conditions, the uSTART will ensure that your vehicle is ready to start, always. Eliminating thousands of pounds of lead and sulfuric acid from needing to be mined, refined, shipped, and recycled, the uSTART is a major sustainability enhancement for your fleet.
Improved voltage conditions lead to longer lasting starters, relays, engine control modules, and greatly improved down-time due to prematurely aged components, creating a higher reliability of starting when you need to, every time.
Using our Smart Power power electronics, the unit supplies nearly all of the cranking current during engine starts. For short stops, such as during a delivery, the uSTART provides the energy to the electrical bus to support ancillary devices until a crank is initiated.  uSTART stores a relatively small amount of energy compared with a battery, but it delivers engine cranking current. For more information about uSTART, please see the Product Info box to the upper right.
The uSTART will turn on automatically when it sees alternator voltage for the first time. The unit will also turn itself off (go into maintenance mode) once one of the terminals are disconnected, after approximately 5 seconds. The Bluetooth app can also be used to turn the unit on ("Run" mode), off ("Maintenance" mode), or a jump start can be initiated using the app without connecting any additional wires.
The jump start mode will initiate a charge sequence, collecting energy from the battery. Once the uSTART is charged, the uSTART will assist the low batteries to provide the power the crank the engine.
The 12V uSTART is designed to work with at least one 12V battery connected in parallel, and the unit needs at least 6V to be able to turn on. Often, when installing the uSTART, one or more batteries can be removed.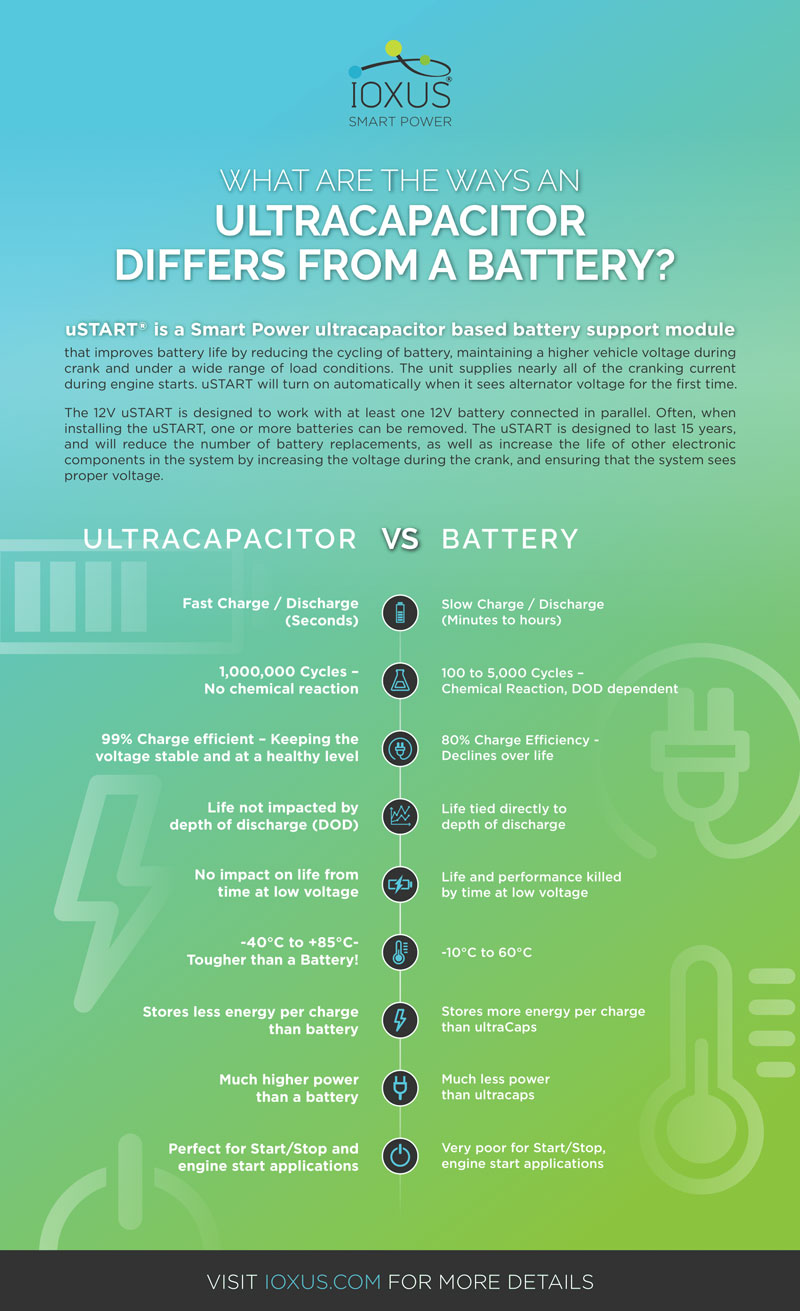 Increased Reliability – prevents stranded vehicles,
starts in the harshest of conditions
Increased Efficiency – powers hundreds of
Stop/Start events per day, ideal for delivery
vehicles
Rapid Payback – Keeps your trucks rolling Battery
life doubled Starter life doubled
Built-in, no service call, "Jump Start" – even with a dead
battery
10 Minute Installation– direct battery replacement (2 Wire) –
No Rewiring!
Installation Guide and User Manual
uSTART Battery Support Module Data Sheet
Why Choose uSTART Over Competitors

PROP 65 WARNING: This product can expose you to chemicals including lead and lead compounds, which are known to the State of California to cause cancer or birth defects or other reproductive harm. Wash hands after handling.
| | |
| --- | --- |
| Weight | 30 lbs |
| Dimensions | 12.99 × 6.81 × 8.43 in |
| uStart v5 | uStart v5 |
150-30Q 12V Super Capacitor Bank, Group 30, Max Power 1200W, 150 Farad Weight Lbs. – 2.5 Weight Kgs. – 1.13 Length – 6.57…